All about Arnab Goswami's Whatsapp chat leaked: see the details inside.
The leaked WhatsApp conversations between Republic TV executive editor Arnab Goswami and former CEO of Broadcast Audience Research Council (BARC) Partho Dasgupta has brought to the fore evidence of alleged collusion to influence TV ratings.
The purported WhatsApp conversations between the two, which are a part of the charge sheet submitted by the police in the court, reveal blatant misuse of official position by Partho Dasgupta to help his "friend" Arnab Goswami.
The TRP scam came to light in October last year when BARC filed a complaint through Hansa Research Group, alleging that certain television channels, including Republic TV, were rigging their TRP numbers.
The biggest issue that has taken the spark out of the whole is the "purported WhatsApp conversation between Republic TV Editor-in-Chief Arnab Goswami and Broadcast Audience Research Council's former Chief Executive Officer Partho Dasgupta', which suggest that the former had prior knowledge about the Balakot airstrike, which raised serious questions about national security.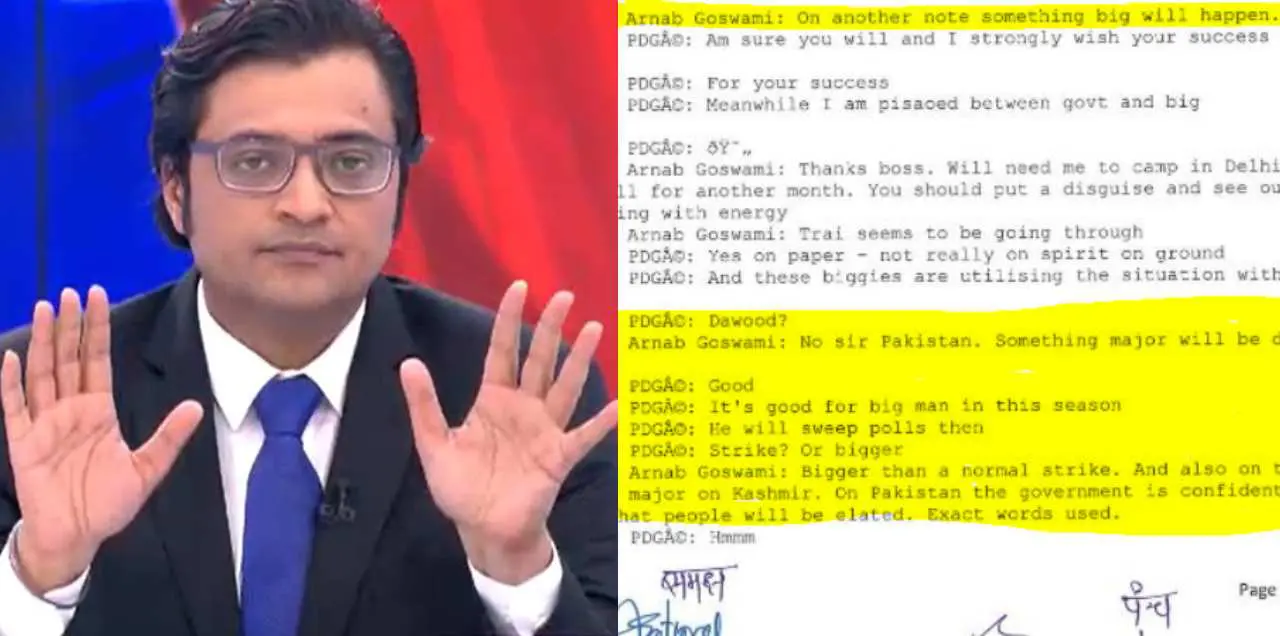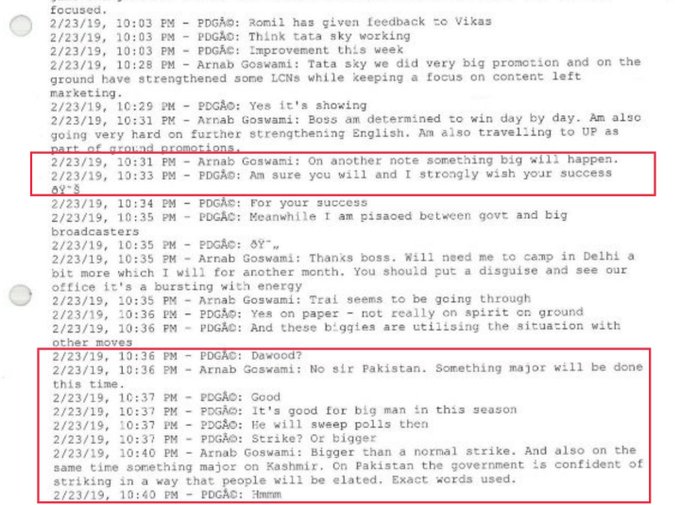 Several Congress leaders including Randeep Singh Surjewala(spokesperson of the Congress) has asked the government to institute a JPC inquiry into the 'Chatgate' involving Republic TV editor Arnab Goswami and former BARC head Partho Dasgupta, contending that there was evidence that he was privy to the Balakot airstrikes that were "planned" by the BJP regime purely with Lok Sabha elections in mind.
Former I&B minister and Lok Sabha MP Manish Tewari, referring to the leaked WhatsApp chats, tweeted, "If what sections of media is reporting is correct, then it points towards a direct linkage between Balakot airstrikes and 2019 general elections. Was national security milked for electoral purposes? Needs a JPC investigation."

In the purported conversations(Arnab Goswami and ex-BARC CEO's WhatsApp chats), the ex-CEO of BARC is seen not just guiding Arnab on how to consolidate the position of Republic TV and Republic Bharat, but also seeking favors in return in the form of "media advisor kind of position with the PMO".
These WhatsApp conversations have gone viral on social media with people expressing shock and dismay at the alleged connivance between Partho Dasgupta and Arnab Goswami to manipulate the system. Also, the alleged claims made by Arnab Goswami over his reach and influence with the government and his blatant misuse of this to further his business interests have evoked strong reactions on social media.
Congress student wing National Students Union of India (NSUI) has filed a police complaint against Goswami in Maharashtra, youth arm Youth Congress organized a protest in Delhi Monday, and scores of senior party leaders — including former Union Home Minister P. Chidambaram and former junior Foreign Minister Shashi Tharoor — have taken to Twitter to note that the chats pose serious questions about national security.
Goswami's leaked WhatsApp chats has created a storm when they went viral Friday. Running over 1,000 pages long, they are part of Mumbai Police's charge sheet, submitted before a court, in a case pertaining to alleged manipulation of Television Rating Points (TRPs) by news channels, including Republic TV. Apart from the Balakot airstrikes, the chats purportedly show Goswami having prior knowledge of major government decisions such as the scrapping of Article 370. On 14 February 2019, hours after the Pulwama attack, Goswami purportedly texted Dasgupta that it worked well for his channel's TRPs. In another conversation on 23 February 2019, Goswami allegedly referred to the government's plans to strike Pakistan "in a way that people will be elated". While the NSUI has accused Goswami of "treason", senior Congress leaders have called for a thorough investigation in the matter.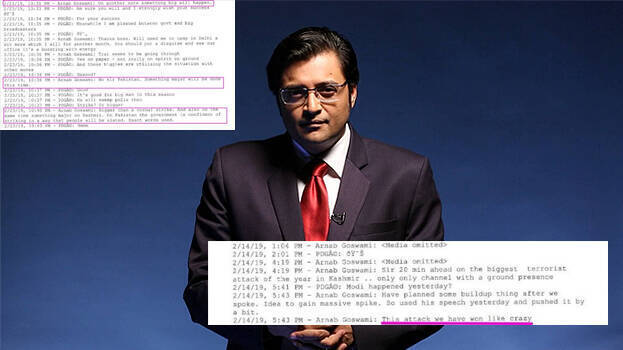 Here is a look at some of the reactions on Twitter:
How #ArnabGoswamy Knows About Military Strikes And What moves they gonna make?? Isn't it shocking that a civil man knows about internal info of security forces…

Who gives this info to #Arnab ?? AS?? #TRPScam #ArnabGoswamiExposed #TraitorArnab pic.twitter.com/IXn0KLSvFk

— Parag Sharad Mohite (@ParagSMohite) January 16, 2021
Leaked Chats of TRP scamster Varnan Goswami #BJPexposed #TRPScam #ArnabGoswamiExposed pic.twitter.com/UjT2Nyxs8B

— विशाल મહેશ Meisheri™ (@MeisheriVishal) January 15, 2021
BIG BREAKING: I want to know who among PM, HM or NSA leaked secret information to #ArnabGoswami. This is a criminal act. If Arnab had such info on his WhatsApp, I assume the Pakistanis too had it: Rahul Gandhi launches a tirade against Govt and Arnab. #ArnabChatGate pic.twitter.com/2c9UZwpSKZ

— Prashant Kumar (@scribe_prashant) January 19, 2021