Tandav Controversy: Why the Web-series is creating chaos; explained.
Saif Ali khan's starrer, Ali Abbas Zafar directorial "Tandav' is constantly picking up the fire over its Controversial scenes. In a nutshell, Tandav has landed itself in trouble with a section of the audience that feels that the show is insulting the Hindu Gods and Goddesses, and also mocking the religions. 
The web show released on Amazon Prime Video and had an ensemble star cast including Saif Ali Khan, Dimple Kapadia, Sunil Grover, Zeeshan Ayyub, Gauhar Khan, and Kritika Kamra amongst others. Soon after the release, Tandav faced a backlash from a certain section of society for provoking communal disharmony over a scene from the first episode. Not only this, more than three FIRs have been registered against the makers as well as the star cast for hurting Hindu sentiments in over 6 cities.
Abbas Zafar-directorial has been receiving a backlash on social media majorly because of two scenes. One that features Mohammed Zeeshan Ayyub playing the role of student leader-turned-rising politician Shiva, and another scene that features Sandhya Mridul and Anup Soni as a couple. While most complaints against Tandav are being filed for allegedly hurting the religious sentiments, netizens seem offended by both scenes.
As this controversy continues, a larger debate has also begun on the need for strict regulation and censoring of content hosted on Over The Top (OTT) platforms like Netflix, Amazon Prime, and Hotstar. While there is a censoring mechanism that applies to television shows and movies released in the theatres, OTT content, more or less, gets a free run.
Apart from this, The Lucknow police are all set to interrogate the accused in Mumbai on Wednesday in an FIR lodged in the Tandava web series for hurting religious sentiments and various other indecent things. Due to fog on Monday, the police decided to go by train instead of the road. The train reached Mumbai in the early hours of Wednesday. Director Ali Abbas Zafar, director Himanshu Krishna Mehra, writer Gaurav Solanki, and Amazon Prime's India Content Content India head Aparna Purohit have been charged in the case. An FIR was registered in this case in Hazratganj Kotwali. Only after this, a four-member team led by Inspector Anil Singh has been sent to Mumbai. This case has also caught a lot of social media. After taking the statements of the accused in this case, the prudent will decide what action to take. At the same time, in Ghazipur and Hasanganj police station in Lucknow, some institutions have given Tahrir for lodging FIR.
Bharatiya Janata Party MP Manoj Kotak wrote to Information and Broadcasting Minister Prakash Javadekar seeking a ban on the series for allegedly ridiculing Hindu deities. "Different organizations and individuals have complained that Hindu Gods and Goddesses have been ridiculed in Tandav web series. Comments have been passed about them," Kotak said. Mean-while, The I&B ministry sought an explanation from Amazon Prime after the controversy broke out. "The ministry has called executives of the video streaming service and decided to seek an explanation from them over the matter," an official said.
However, The Shiv Sena has launched a scathing attack on the Bharatiya Janata Party (BJP) over the controversy surrounding Amazon Prime's web series 'Tandav' starring Saif Ali Khan and Mohd Zeeshan Ayyub. In its mouthpiece Saamana, Sena took a dig at its former alliance partner saying that BJP was doing 'Tandav' over the web series controversy. The Saamana editorial claimed Shiv Sena had forced late painter MF Hussain to leave India for drawing objectionable portraits of Hindu Gods and Goddesses. While hitting out at the BJP, Sena said the opposition party's 'Tandav' over Amazon Prime's web series is absolutely fake.
Let's have a look at the Scenes that are at the heart of the Controversy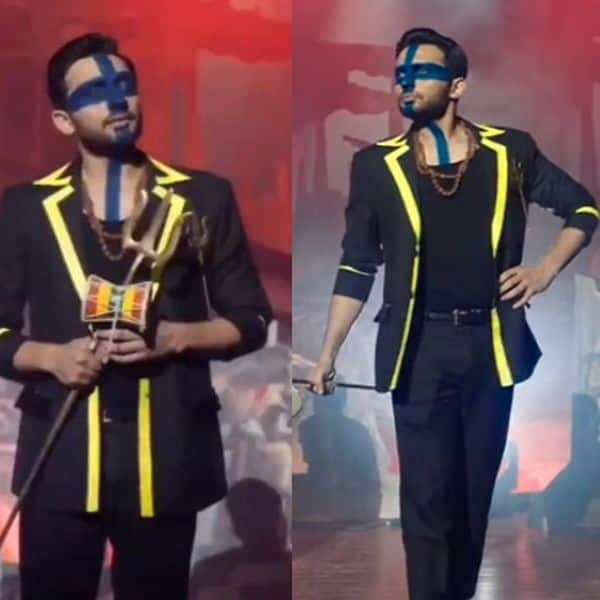 Scene 1 from Episode 1: Mohammed Zeeshan Ayyub aka Shiva plays the role of Lord Shiva in a college play. He doesn't match the traditional depiction of the Hindu God but looks stylish – wearing a suit, carrying a Treeshul in one hand, and smearing blue paint on his face and neck. Shiva talks about getting fewer followers on social media as compared to Lord Ram and what should he do to increase followers. Narad Muni (another mythological figure) advises him to tweet 'something sensational' to get more followers on Twitter and talk about how the students of the university are chanting 'azaadi azaadi' these days. The scene explains how students are talking about getting freedom from poverty, feudalism, and caste-based discrimination in the country but they are being misunderstood. "Matlab desh se azaadi nahi chahye, desh me rehte hue azaadi chahye" says Shiva as the scene ends. 
Scene 2 from Episode 8: In a conversation, Sandhya (Sandhya Mridul) tells her boyfriend and now the father of her child, Dalit political leader Kailash Kumar (Anup Soni), that her ex-husband once told her something that she thought was bulls***. She quotes Jigar (Dino Morea) and says when a Dalit man dates a woman from an upper caste, he takes revenge for the discrimination that he and his community have suffered over the years. "Usne kaha thi ki jab ek chhoti jaat ka aadmi ek unchi jaat ki aurat ko date karta hai, toh sirf badla lene ke liye… sadiyon ke atyacharon ka, us ek aurat se." The dialogue shows the woman's outrage when she finds out that she's pregnant with Kailash's child who lied to her about taking a divorce from his wife before having a relationship with her.