Jaya Bachchan's speech controversy: additional security outside Amitabh Bahchan's jalsa after Jaya Bachchan's Parliament speech!
Jaya Bachchan's speech controversy: Security has been tightened outside Amitabh Bachchan and Jaya Bachchan's residence Jalsa in Mumbai, after the latter in Parliament alleged that a continuous attempt to defame the film industry is being made, taking an indirect jibe at actor-politician Ravi Kishan who has claimed that drug addiction happens in the film industry. Also, read: No Fan Or Bed In Rhea Chakraborty's Jail Cell Next To Indrani Mukerjea's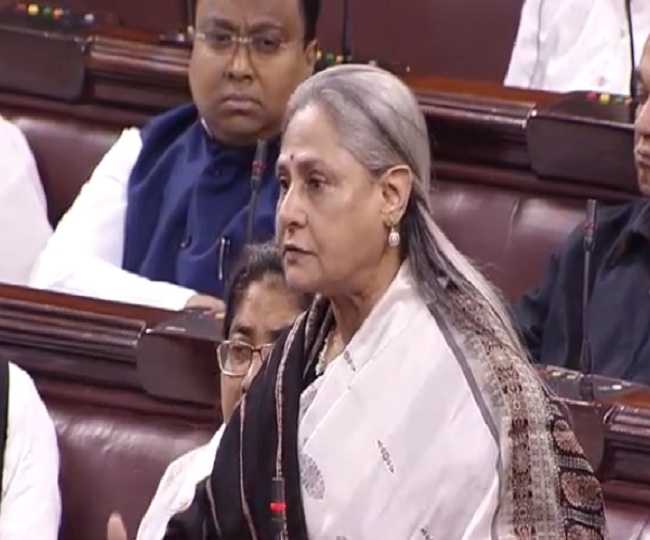 Hitting out at actor and BJP MP Ravi Kishan over his comments on drugs in Bollywood, Jaya Bachchan, a Samajwadi Party member, said in Rajya Sabha on Tuesday: "Just because of a few people, you cannot tarnish the whole industry… Jis thaali me khaate hain usi me chched Karte hain," she said.
Even as Jaya Bachchan, 72, received tremendous support from many in Bollywood after her fiery speech, a large section of social media users criticized her statements, with hashtags such as #ShameOnJayaBachchan trending on Twitter.
Actor Kangana Ranaut also hit out at the veteran actor, asking if Ms. Bachchan would react in the same manner if her daughter or son were affected.
Today, the 33-year-old actor attacked Jaya Bachchan once again in a post in Hindi: "Which plate has Jaya-ji and her industry given?… I taught this industry feminism, decorated the plate with patriotic and feminist films. This is my plate, Jaya-ji, not yours."
But across the political divide, Ms. Bachchan's statements were backed by veteran actor and BJP MP Hema Malini who said Bollywood would "always remain in high esteem" and no one could bring it down in flashover allegations like drugs and nepotism. In an emotional defense of the film industry, she told reporter, "I got name, fame, respect, everything from this industry… it feels really hurtful."
Jaya Bachchan during the zero-hours in Rajya Sabha, also said that 'people working in the entertainment industry are "flogged" by social media'.
"People in the entertainment industry are being flogged by social media. People who made their name in the industry have called it a gutter. I completely disagree. I hope that the government tells such people not to use this kind of language," she said.
Jaya Bachchan's statement came after BJP MP Ravi Kishan on Monday raised the issue of consumption of drugs in the film industry and urged the Centre to take strict action against the culprits involved in it.
"The problem of drug trafficking and addiction is on a rise in our country. Our neighboring countries are contributing to the conspiracy, which is being hatched to destroy the country's youth," said Kishan.
He further said, "The drug is smuggled in India by our neighbors, Pakistan and China every year. The same is brought here through Punjab and Nepal."
He also urged Jaya Bachchan to support him and said that he was against those who are planning to finish the world's largest film industry.
"I expected Jaya Ji to support what I said. Not everyone in the industry consumes drugs but those who do are part of a plan to finish the world's largest film industry. When Jaya Ji & I joined, the situation was not like this but now we need to protect the industry", Ravi Kishan said, as quoted by ANI.