64 Opposition MPs submit impeachment notice against Chief Justice of India Dipak Misra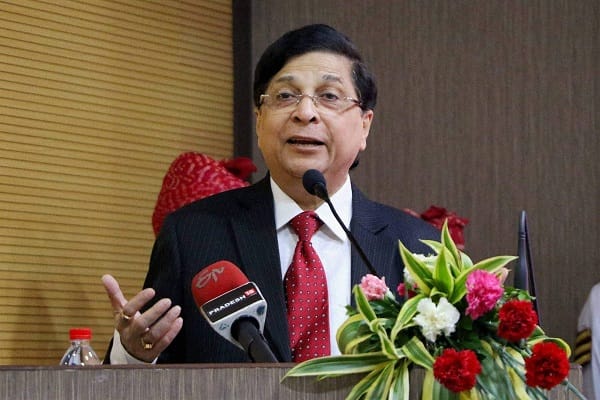 In an unprecedented move, Opposition parties led by the Congress took the first step towards impeachment of Chief Justice of India Dipak Misra by submitting the petition with over 70 signatures to Vice President Venkaiah Naidu, who is also the Rajya Sabha chairman in Parliament.
The move comes in the wake of the Supreme Court (SC) judgment of yesterday, which dismissed the demand for an investigation into the death of CBI judge BH Loya.
As many as 64 Parliamentarians (MPs) belonging to seven political parties today signed the notice for impeachment proceedings against the CJI. They include MPs from the Cong, the NCP, CPM, the CPI, the SP, the BSP and the Muslim League.
Senior Congress leader Kapil Sibal said the notice mentions five grounds of misbehaviour for the CJI's impeachment.
"Since CJI Dipak Mishra come, questions have been raised about his conduct. It showed in the January 12 press conference of four judges of Supreme Court. One concern of the four judges was memorandum of procedure was being unsettled," said Sibal after the parties submitted the impeachment notice to Naidu .
Sibal was referring to an extraordinary press conference called in January by four most senior SC judges.
"When the judges of the Supreme Court themselves believe that the judiciary's independence is at threat, alluding to the functioning of the office of the CJI, should the nation stand still and do nothing", asked Sibal.
The Congress leader said the concern of all those who've signed the impeachment notice is that democracy is being undermined.
"We wish this day had never come in the fabric of our constitutional framework. Since the day he (Dipak Misra) was appointed as CJI there have been questions raised in the manner in which he has dealt with certain cases," said Sibal.
"Impeachment is the only recourse to save the judiciary," he added.
Before meeting Naidu, leader of the opposition in the Rajya Sabha Ghulam Nabi Azad met representatives of all opposition parties that had in February petitioned President Ram Nath Kovind for an investigation into Loya's death.The motion for removal of CJI Misra was first suggested in the wake of a January 12 press conference of the four most senior SC judges.
The Congress has attacked the SC judgment on the investigation of Loya's death as a "sad letter day" , saying there should be a fair investigation into the matter. Congress chief Rahul Gandhi today India will not allow judge Loya to be forgotten.
'There is no hope left, everything is managed' say Judge Loya's family. I want to tell them, there is hope. There is hope because millions of Indians can see the truth. India will not allow Judge Loya to be forgotten," tweeted the Congress chief.